Hotel ILUNION Mérida Palace' Reviews

9.8

Cleaning

9.5

Services

10.0

Location

9.8

Staff

9.2

Price
9.7
Excellent
Scoring based on real reviews written by our clients after their stay
Verified Reviews
Send review
Usa

Wonderful....from the moment I checked in, with a glass of champagne, to the comfortable pillows and bedding, to the amazing and delicious spread at breakfast. I will definitely stay again at one of these hotels.

United States

The hotel staff are all wonderful during our two nights stay. My special thank goes to the front desk lady who discovered that we had another hotel reservation at your hotel (via Booking.com) for a different date that I forgot to cancel, and she made a few calls on our behave and successfully cancelled the extra reservation for us. I really appreciate her great help during check-out on November 25. Thanks.

Spain

We stayed in a Junior Suite which was beautifully appointed. Unfortunately there was no natural daylight or windows opening to the outside. We found this claustrophobic and the room dark. Staff very friendly and helpful. Unable to have a drink in the bar after 11.30

United Kingdom

Very nice Hotel the room was so spacious. We had a room which a person with disabilities would have no problem. Was clean the staff were friendly. Would definitely stay again for longer

Us

Fantantic Hotel with an unbeatable location. Really good service, attentive staff, excellent commodities, a nice restaurant where to try delicious specialities....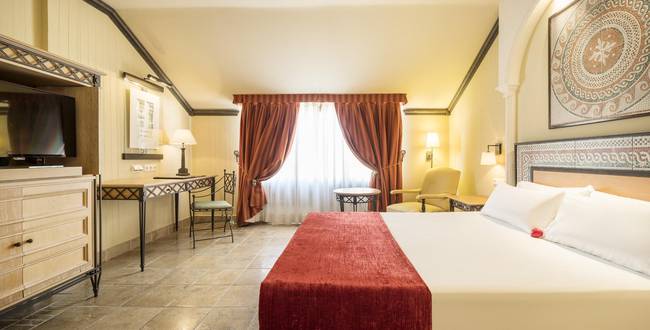 OPINIONS HOTEL MÉRIDA PALACE
Tell us about your experience at ILUNION Mérida Palace in Mérida city centre and help us to improve our service. Your recommendations will allow future customers to get a feel for our hotel when planning their holiday in Mérida, Spain's best preserved Roman city.